I'm so excited to share this post with you guys! I want to help you keep the holiday feeling alive this Summer, not dread spending hundreds on expensive activities.
So I'm giving you insights on how you can enjoy your holiday with some top free activities. To help you save even more, I'm giving you the chance to win an HD Underwater Camera to record all your exciting adventures, wowee!
So, what are these free activities I hear you ask? Brace yourselves, some of these involve exercise, gasp! Totally worth it for the amazing sites you'll see, though. Here they are:
Go to the beach
I thought I'd ease you in with a free activity everyone enjoys - the beach! A popular choice for many families, the beach is a place where you can sit and admire the calming ocean for hours in peace, read a book or play in the ocean with the kids. Just don't forget your sun cream, I've made that mistake too many times!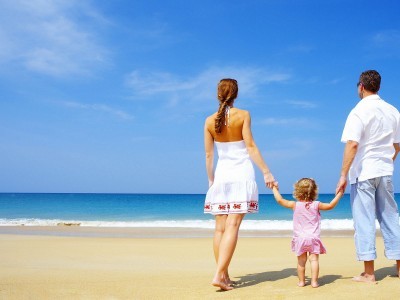 Visit local markets
One of my favourite things to do abroad is go shopping, of course. However, if you're on a budget a great freebie day out is to visit local markets. This is one of the best places to go if you want to soak up local culture and if you do decide to splurge, you can always haggle with the market stall owners, winning.
Go on a hike
Eek! Here comes the exercise. I know the word 'hike' is one that immediately triggers the 'snooze' button in most of our brains, but this is a great activity to do when on holiday and if I can manage it, you definitely can. Get up early, fill up your water bottle and hit the trails. The views are incredible and you will feel a great sense of achievement when you make it to the top. The beauty of this is it's completely free and the whole family can tackle it at their own pace. A great activity to record on your HD camera!
Take advantage of free attractions
By 'free' I mean places like museums, art galleries, monuments, basically anything cultural that doesn't charge an extortionate rate upon entry. Sometimes these can be very busy so I would recommend doing them earlier in the morning. Remember to pack your own lunch and not get sucked in by the ridiculously expensive lunch and ice cream stands!
Go off the beaten trail
It's great to see all the main tourist attractions as mentioned above, but if you'd prefer some peace and quiet it's sometimes better to veer off path to witness the real authenticity of the place you're visiting. Instead of asking employees of your hotel where they recommend, ask them where they hang out themselves, you will definitely get a better deal on things like meals and entertainment.
If you're more of 'staycation' kind of family, check out my top free ways guaranteed to entertain your kids this Summer.
How to win an HD Underwater Camera
I hope you find my free activities exciting! Now for the good part, to enter to win an HD Underwater Camera:
Follow @freestuff_world on Twitter
Retweet this tweet at the top of the page
Don't forget to read T&Cs
Good luck!
Sophie xx